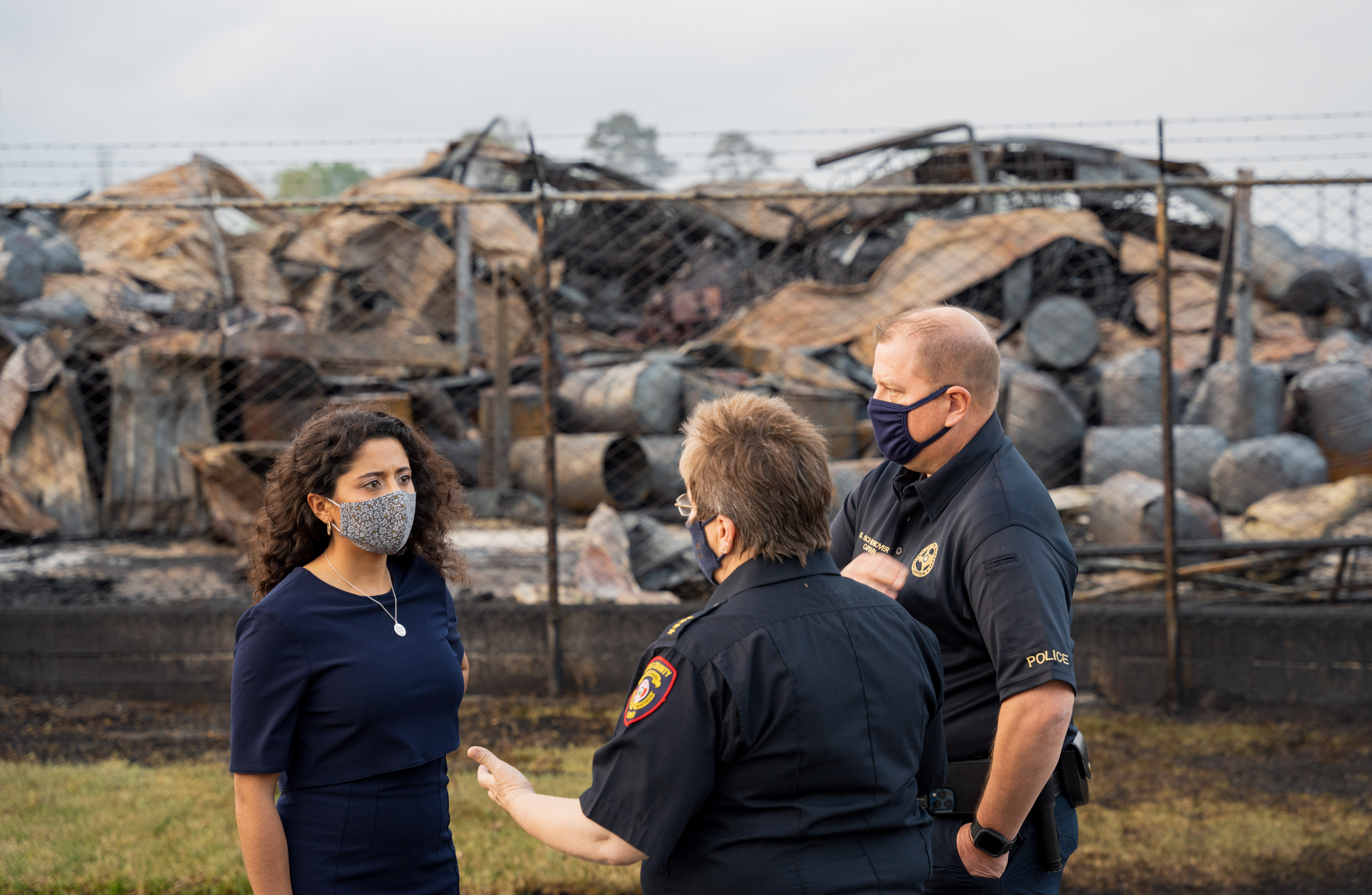 Harris County is no stranger to enduring natural and manufactured disasters. As the County's chief emergency manager, Judge Hidalgo has effectively directed first responders through unprecedented events, enacting timely protocols to protect residents and support recovery measures. From hurricanes and floods, to the COVID-19 pandemic, massive petrochemical fires, and a brutal winter storm, to the tragedy at Astroworld, Judge Hidalgo has continuously ensured residents received access to all available county resources, before, during, and after any untimely disaster. In every instance, Judge Hidalgo has led with fairness, prioritizing the lives and livelihoods of Harris County residents over politics. Some of Judge Hidalgo's work on emergency management include:
Allocating Additional Resources for Disaster Response. Since Hurricane Harvey and Imelda, Harris County increased the number of swift water rescue boats, sped the delivery of flood bond projects, implemented stringent flood detention requirements, and directed the County to account for climate change when planning for future disasters.
Taking the Failure of the Grid Seriously. While state officials Governor Greg Abbott and Senator Ted Cruz dismissed the severity of Texas' imminent 2021 winter storm, Judge Hidalgo rightfully advised Harris County residents to "prepare as if a Category 5 hurricane were on the way." As the storm progressed, Judge Hidalgo signed a disaster declaration for the county and communicated important information regarding the widespread power outages and the threat of carbon monoxide poisoning. She also guided the Harris County Office of Homeland Security and Emergency Management in dispersing water, meals, personal protective equipment, blankets, and cots to area residents.
A New Focus on Recovery. Following disasters, Harris County residents have faced unnecessarily long recovery periods. In response, Judge Hidalgo expanded the County's role in supporting residents through recovery, by ensuring all available resources were accessible and/or in use. For example, after Tropical Storm Imelda, Judge Hidalgo deployed the County's community service department to provide recovery services for flood survivors before FEMA deployed federal assets.
To read more about other work Judge Hidalgo has done on emergency management, click here.