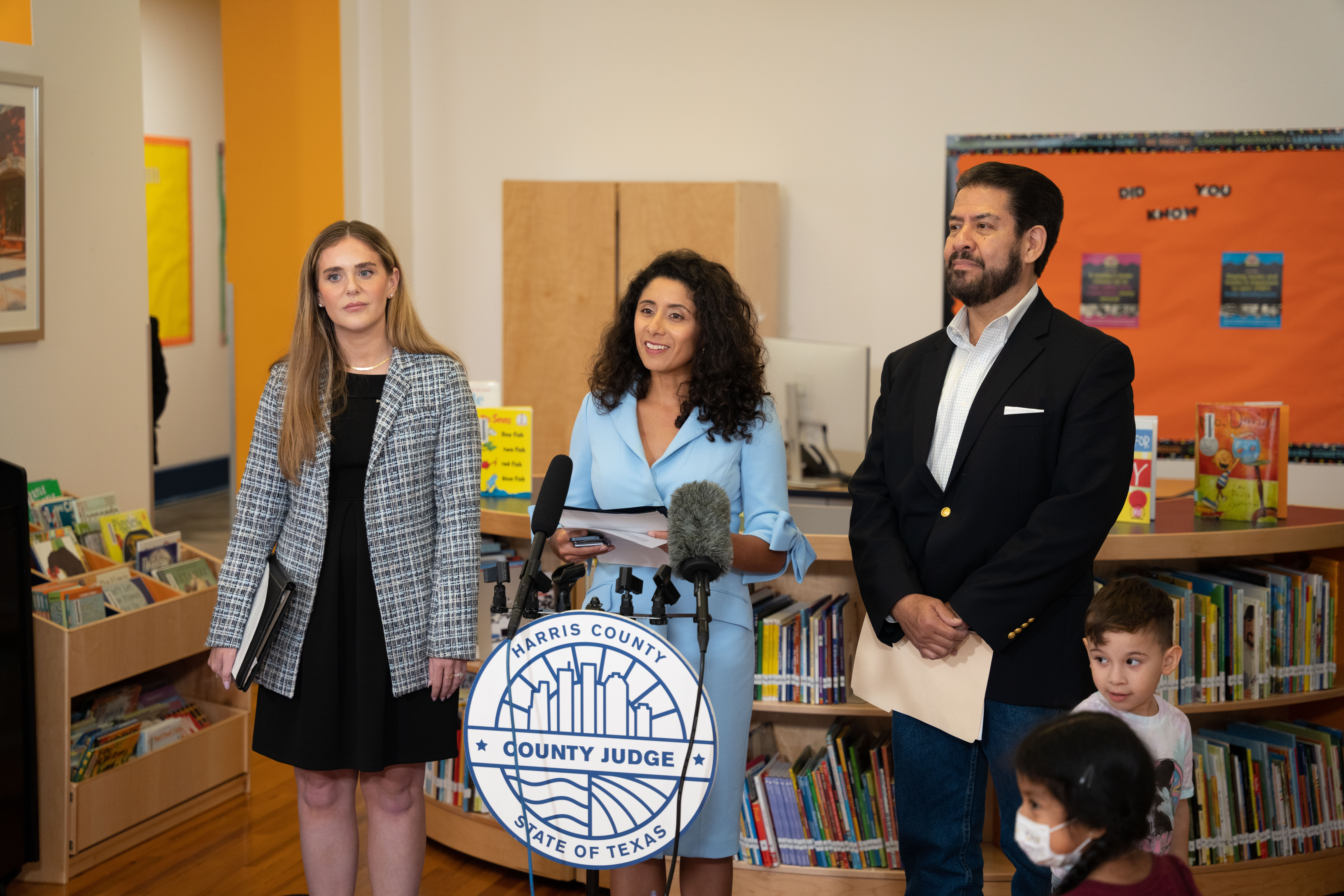 Judge Hidalgo is leading the charge in placing kids first in Harris County with her record investments in early childhood education, investing over eighty million dollars for high-quality early childhood development programs and expanded access to programs for our little ones. Some of Judge Hidalgo's work on childhood development include:
Promoting Access to High-Quality Childcare. Due to the high cost of childcare, parents who wish to work will stay home as a caretaker, preventing them from entering the workforce and costing families lost wages. In response, Judge Hidalgo has implemented a $48 million investment. The $48 million investment will increase accessibility to high-quality childcare and early childhood development by 10% in the third-largest county in the nation. Approximately 105,000 children aged 0-3 with working parents live in a quality child care desert in which there are few or no affordable options for quality child care in their area.
Investing in Children At-Risk. In an effort to reduce crime across Harris County, Judge Hidalgo spearheaded the $4 million Youth Reinvestment Fund, which consists of research-driven programs with the potential to dramatically improve early childhood outcomes for at-risk youth, steering them away from a life of crime through mentorship, summer programs, and drug education. After a thorough evaluation process, Harris County Commissioners Court awarded three grantees funds to develop a targeted portfolio of early childhood programs, including resources for educators and new parents, and the expansion of home-based child care providers.
Earned Childhood Income Credit Initiative. In collaboration with BakerRipley, Judge Hidalgo unveiled a new investment of $500,000 to expand free tax preparation services to help more families living below the poverty level in Harris County receive the federal child care tax credit. In Harris County, 21.7% of children live in poverty, and 9.4% live in "deep poverty." An estimated 30,000 qualifying Harris County children were at risk of missing out on the payments if their households did not file a tax return.The program helped bring $12 million to Harris County families.
Tackling Behavioral and Mental Health. Along with Congressional delegates, Judge Hidalgo allocated $14.3 million of American Rescue Plan Act funds towards the Behavioral and Mental Health Program. The initiative will focus on increasing access to mental health and substance abuse services among our adolescent and youth population.
To read more about other work Judge Hidalgo has done on childhood development, click here.